The hull was built using Royal Huisman's proprietary Featherlight construction method.
The 47-meter sailing yacht has been spotted on her first sea trials in North Sea waters. The sailboat, formerly Project 405 and Reichel/Pugh-Nauta 154, was launched in Amsterdam in April of this year.
Nilaya (translated from Sanskrit as "house of bliss") was custom-built for the client Nauta Design. It is a robust and high-performance sailing boat, prepared for regattas and at the same time, with high performance in terms of comfort and reliability.
"The cabin is very important as it allows you to look at the sea while sitting in the main saloon," said Massimo Gino, co-founder and partner of Nauta Design. Quiet, security and space were also essential components of the terms of reference."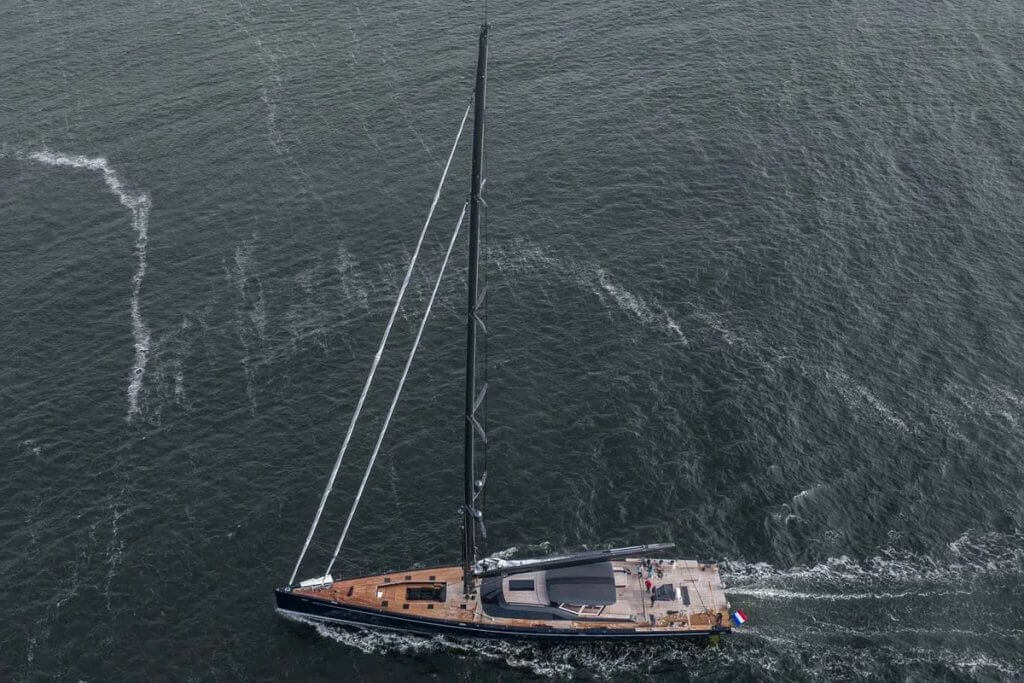 Nilaya is the first hull built using Royal Huisman's proprietary Featherlight construction method. Thanks to special analysis and design, the total weight of the vessel has been reduced by 11% compared to competitors.
Reichel-Pugh and CFD worked on perfecting the hull shape. Rondal created the carbon fiber mast and sail rigging.
The yacht features a low, sporty profile with a straight bow and wide transom and a 17.5-meter-long carbon composite sunroof. Doyle Sails' structured construction keeps the mast and rigging weight low.
Royal Huisman CEO Jan Timmerman said: "The success of the innovations with Project 405 paves the way to use this bold new approach for future builds. I am proud of the investment we have made in advanced engineering and of the way teams from Royal Huisman and Rondal advanced new solutions to meet the brief from very knowledgeable clients and designers."
Credits: Bjorn Mierop