Ken Reed, skipper of the Puma Ocean Racing team, is a legendary figure in the world of yachting.
He has competed in the America's Cup twice, was named United States Rolex Yachtsman of the Year twice, and has competed in more than forty international, North American and national championships. For the first time he came so close to victory, but you can thank him not only for the second place of the Puma team in the Volvo Ocean Race 2008-2009, but also for the appearance of the Puma brand in yachting and the release of their first yacht collection.
Yes, now yachting has not only Gaastra, Helly Hansen, Musto, but also Puma. Which now makes technical yachting clothing with GORE-TEX® membranes, tested in the field by its own team. "It's all Kenny," smiles Puma President Johan Zeitz. - He infected me with yachting as soon as we met. And we decided not just to participate in the race, but to coincide with the release of a new yacht clothing and footwear line. To the debut of Puma in yachting. Ken is an amazingly charismatic person - it was not a 100% commercial decision. He never once tried to sell me an idea or sell me something - he was honest from the very beginning. This could not but bribe - because opening a new business in a sport that you practically do not know, you need to trust the person with whom you are doing it.
Kenny is really very sincere, smiling, with penetrating brown eyes. He wins you over from the very first minute of the conversation. "I really love yachting, but due to historical reasons, this sport is quite conservative. I always wanted to do something good for yachting," he replies, embarrassed. "And I just took and brought Puma into it. Because yachting needed some new energy injection. And Puma is all about energy. The fact that we participated in the biggest event in sailing for the first time and immediately got so close to victory is a direct proof." The red and black boat Il Mostro, made in the image and likeness of a sneaker, and bright red yachting jackets really stood out from the rest - such an unusual design and color scheme for classic yachting. Not to calm, but to excite the eye - is this the yachting world that we are used to? And soon will the sea be dressed in bright colors, taking on such energy? After all, this is a sport, a race - and the more energy you have, the more chances you have to win... Kenny, how did you do it? After all, the decision to participate was made quite late ...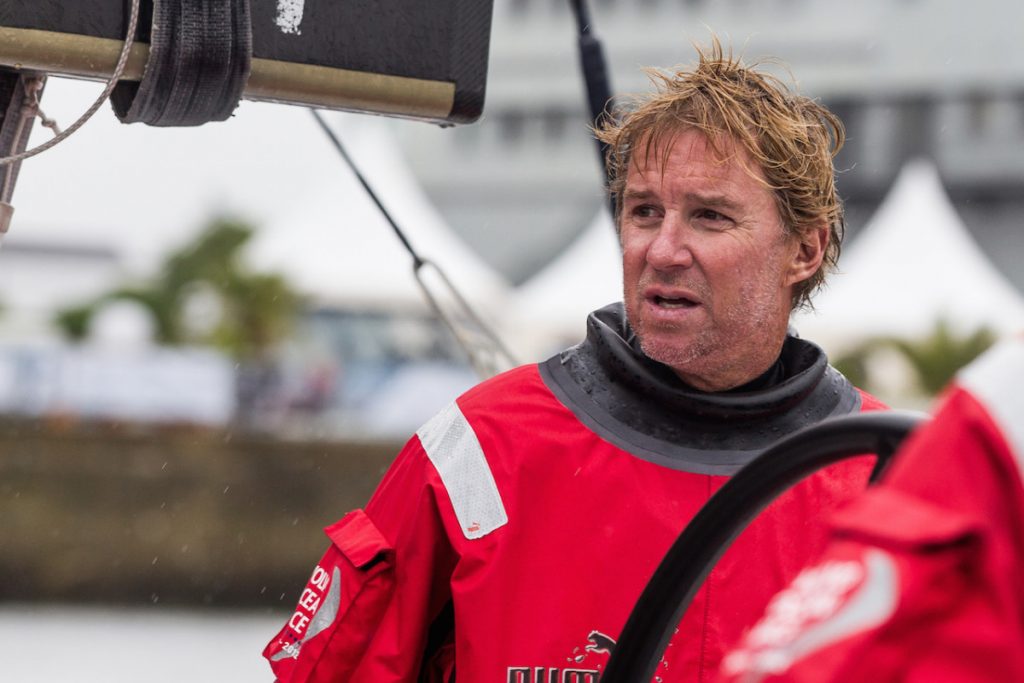 Yes, when we started, almost all the pros and boat designers had already been taken apart by other teams. Therefore, I formed the crew according to the principle "The best people I can find." And I personally knew everyone, except for two - I had never gone with them before. We trained for about 6 months, but on different boats, we never got together as a team.
How difficult was it for you to work together and get along if, as a team, you never went before the race?
The fact is that in such a race, the conditions themselves generate problems. 11 men live on an area equal to two large dining tables, the food is just disgusting, there is not enough water, and you are constantly thirsty, constantly losing weight, and you are wet almost all the time. You exist in two states - when you work, you are terribly hot, and when you rest, you freeze to the bone. And "clear sailing days" I can count on the fingers of one hand, because our job is to chase storms. The main thing for us is speed, so when we see a storm on the weather map, we literally rush towards it and try to move along with it. Therefore, almost all swimming takes place in terrible weather conditions. It is, trust me, tension!
And how do you manage not to eat each other - after all, everyone is different, someone is a leader, someone is a weak link - and all responsibility for order lies with the captain ...
It is necessary to understand who is the leader and who is the subordinate at the stage of team formation. This is not a democracy. It's a very rigid hierarchy. Whatever decision I make, right or wrong, everyone is obliged to agree with it. I directly manage two watch officers, each of them in turn is constantly on deck and controls the situation. They also have the right to make some decisions while I sleep, for example, but if something important needs to be decided, they are obliged to wake me up, because all the responsibility for what is happening lies with me. Anyone who violates the hierarchy adopted at sea runs the risk of being put ashore. And I personally had such cases - there are people who cannot be integrated into a specific team, solely for psychological reasons.
So in the end you all became friends?
Yes, we are now much more friends than we were at the beginning of the race. Success promotes friendship. So in any team sport - when everything goes well, everyone is happy and friends. But when everything is not going well - anger and aggression accumulate, the negative begins to splash out on others. I think that we are very lucky that we managed to finish it all on such a great note. The last seven stages of the race we came either first or second, we were very happy about this, and despite all the fatigue and hassle, we received a lot of positive emotions.
Have you formed any traditions in your team?
Oh sure. Basically, jokes and all sorts of team jokes that accompanied us all the way. Sometimes people are brought together, you know, such nonsense ... One of the guys from our crew has a family that owns a small boat dock. So he took with him a whole bunch of promotional stickers for this dock and pasted them everywhere around the world, where we just did not stop. I am now in the restaurant where the press conference was held, I went to wash my hands - and there I found this sticker in the toilet. Wherever he goes, he leaves these stickers everywhere. This unrealistically infuriated our general manager of the coastal team, Kimo Worsington. He told him a hundred times and demanded to stop it, but our guy did not give up, and in the end the whole team began to help him - we all glued these stickers in huge quantities, and had a lot of fun. Wherever Kimo went, they surrounded him everywhere - I think we brought him to the end (laughs embarrassedly).
As soon as these stickers are not over? Was your boat full of them?
No, it's just that at each new port, the family brought another box to our friend. The delivery was arranged by them, so we still have stickers. To think that they brought us together like that.
However, what was the most stressful moment?
Yes. The most difficult psychological moment for me was the dead calm on the way to Boston. There were only 25 miles left, we knew that families and friends were already waiting for us on the pier, we were striving to go there with all our hearts and at the same time did not move. Then I almost went crazy from the consciousness of my own impotence.
What other problems were there?
The big problem in the race, in my opinion, is the hands of the yachtsmen. The boat is moving at a very high speed, water is everywhere, hands are constantly wet. Water causes much more damage than ropes that have to be pulled. As a skipper, I worked mainly with instruments and navigational equipment, I did not wear gloves. And something terrible happened to my hands. Regarding serious injuries - one person had a dislocation of the knee joint. We had to evacuate him. A piece of my finger was torn off with a rope through the stopper. There was always something going on with the guys with their ankles and wrists. In general, initially we had 15 people in the team. Three dropped out at the beginning - they did not fit in physical form, unfortunately. And another one is still in the hospital with a knee injury - so 11 people finished the race.
Kenny, how is it possible for a yachtsman to get into a race like this? Is it possible to somehow come from outside by paying for participation, for example?
No, this is a race for professionals only. There are so-called adventure round-the-world races where you can pay for a seat in the crew of a particular boat. But the Volvo Ocean Race is like Formula 1 in yachting, and each team member takes his place because he deserves it, solely due to his experience and professionalism. Even young guys, up to 30 years old, have already managed to prove that they are the best in this sport. The same applies to our shore support teams - they must have vast experience in this matter - in mooring, in the design and repair of boats, to be able to work smoothly on shore - it is almost impossible for beginners to get here.
Shaking hands with Ken Reed at the end, I remember the chronicle of the race - Ken really got a hand injury, and many journalists under the headings "They killed Kenny" wrote that the talented skipper lost a finger or hand. No, everything is in order with the hand - it's completely nonsense and everything has healed for a long time. Still, Kenny is definitely a positive charge. And endless energy.
Text: Evgenia Belaya