The motor yacht Turquoise Go broke through the moorings while leaving the marina in St. Maarten.
In the port of Saint Martin, in the Caribbean, a luxury superyacht with passengers on board crashed into the pier and damaged several boats belonging to the island's yacht club.
As can be seen in the footage, the huge yacht Turquoise Go, 77 meters long, crashed into the pier twice and broke through several motor boats. The yacht was moving fast and did not stop despite the screams and signals of the marina staff and the ship's crew.
Several versions of the causes of the accident were voiced: a malfunction of the on-board equipment, problems with the steering and the ingress of foreign objects on one of the ship's propellers. In the published videos, it is clearly seen that a stain of dirt or oil is quickly spreading around the yacht.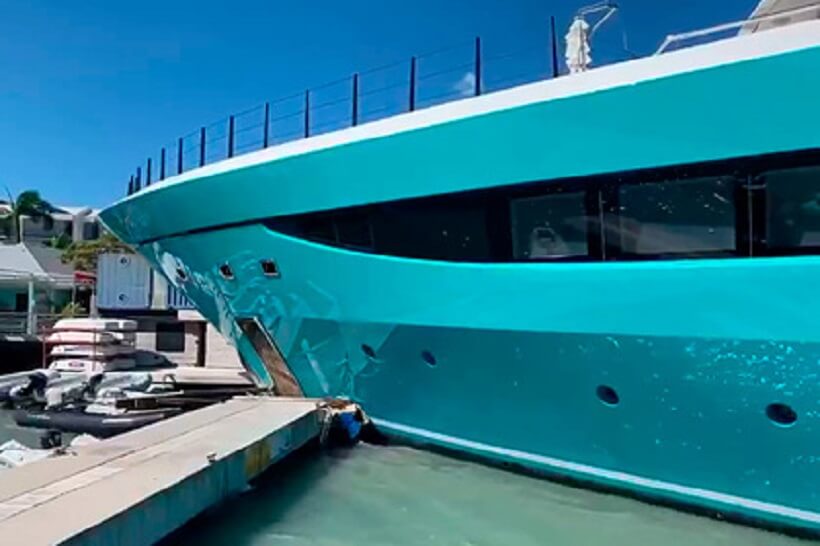 According to representatives of the yacht club, the yacht broke the pier when leaving Simpson Bay from the port of Ile de Sol. There is no information about the presence of victims among passengers or crew members. The general director of the yacht club of Saint-Martin said that all the consequences of the incident have been eliminated. Now the insurance company is working to assess the damage caused by the unsuccessful mooring.
Motor yacht Go was built in 2018 and is the flagship of the Turquoise shipyard. The vessel can accommodate 18 guests in 9 comfortable cabins and 19 crew members. The Turquoise Go is powered by Caterpillar engines that reach a top speed of 17 knots.
The cost of the Go yacht is 90 million US dollars, and annual maintenance costs from 5 to 10 million dollars. The Turquoise Go is owned by Swiss billionaire Hans Peter Wild, who is worth an estimated $3 billion.