Wally Yachts can be called a company that loves to create uncompromising solutions.
When it comes to companies specializing in the production of yachts, connoisseurs are sure to remember Wally Yachts, which became famous for its unusual approach to the creation of new vessels and developed many original solutions.
The history of Wally Yachts began in 1994. The company, headquartered in Monaco, was founded by Italian entrepreneur Luca Bassani. Initially, it specialized exclusively in sailing ships, but later it also began to produce motor solutions. From the earliest days of its existence, Wally has become famous as a company prone to experimentation and the use of modern technologies. So, she was one of the first to actively use carbon fiber in construction.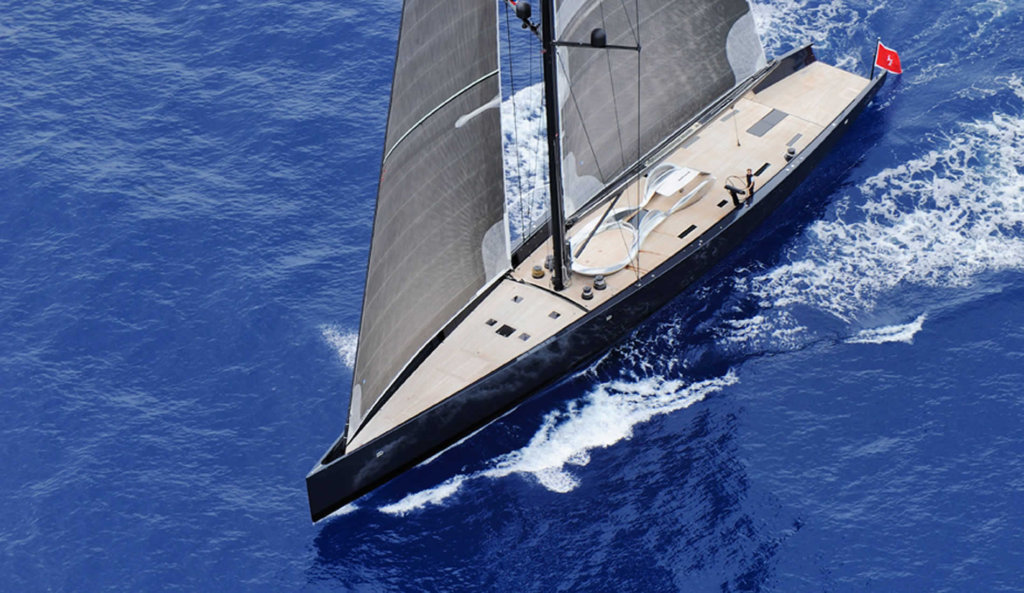 When designing yachts, Wally has repeatedly attracted such eminent designers as Luca Brent, Bruce Farr and Philippe Starck. And her creations are owned by such celebrities as the Italian industrialist Giovanni Agnelli, the Spanish monarch Juan Carlos I, as well as businessmen Marco Tronchetti Provera and Lindsey Owen-Jones. Most of the yachts produced are about 30 meters long, but there are also 11-meter and 50-meter solutions. All these are elegant and thoughtful creations that can satisfy the needs of even the most demanding yachtsmen.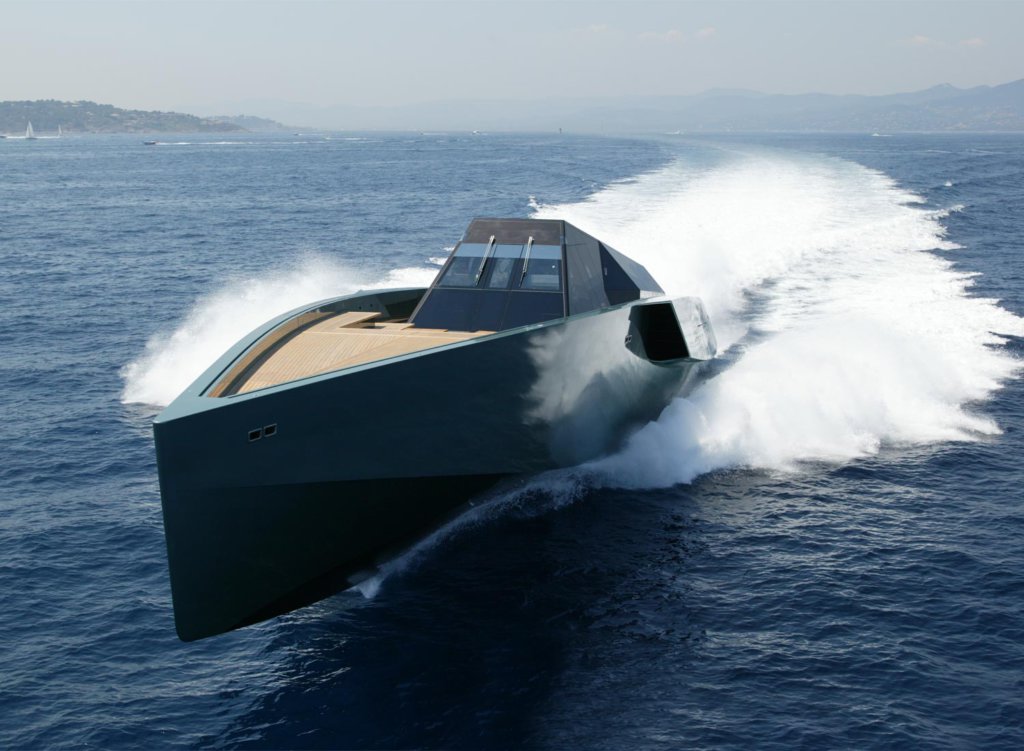 The most famous model of the company is perhaps the 36-meter motor yacht 118 WallyPower. Exceptionally spectacular in appearance, this vessel immediately attracted attention with its ability to develop an impressive 60 knots thanks to a 16,800 hp gas turbine plant. Moreover, moving at such a speed, the yacht is able to travel up to 560 km (at a cruising speed of 9 knots, the fuel supply will be enough for a trip of 2800 km). An interesting find was a dark green color that can change shade, depending on the environment and lighting, due to reflective properties.
And in 2007, the company attracted attention with the WallyIsland project - a 99 meter motor superyacht, the main feature of which was to be the main deck, with an area of 1000 square meters. It was planned to place, among other things, a swimming pool, small football and tennis fields , a heliport and even a real garden. True, this project, which journalists dubbed the "moving tropical island" in the end, was never implemented.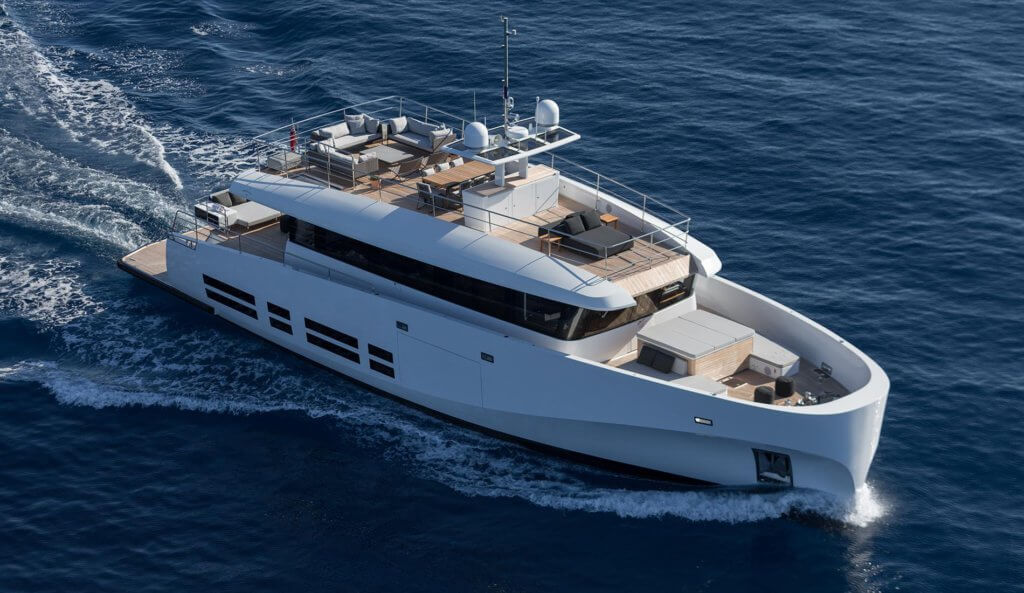 In other words, Wally Yachts can be called a company that loves to create uncompromising solutions. And the appearance of the 26.2-meter WallyAce, created for long and leisurely cruises, became all the more unusual. However, if we consider this creation in terms of design, comfort and handling, then it can also be safely called "uncompromising".
The official legend says that WallyAce was created by order of a client who loves the style of the company, but at the same time wants to get a highly comfortable cruiser for long-distance travel. After all, not everyone wants to rush at insane speed across the expanses of the ocean, there are many wealthy people who want to visit the most remote corners of the Earth without harming the environment (needless to say, 118 WallyPower is capable of consuming up to 3500 liters of fuel per 100 km).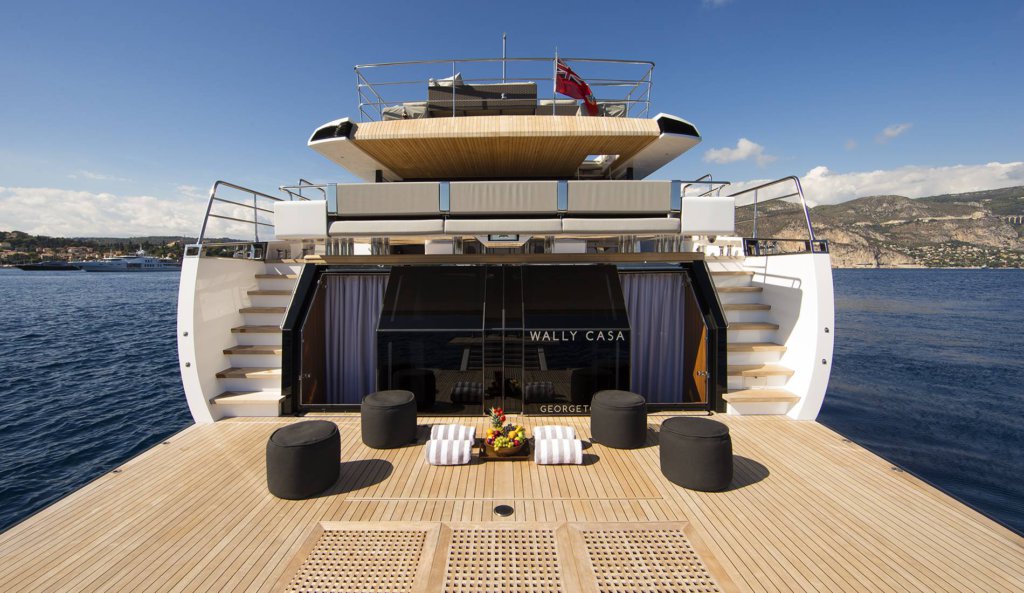 And indeed, everything is in order with the "range" of WallyAce - moving at a speed of 6.5 knots, this yacht is able to cover a distance of 8000 km, consuming only 8 l / h. The maximum speed of the vessel, equipped with two diesel Caterpillar C12 385 hp. each reaches 13 knots. The cruising speed is 10 knots, it can travel up to 5500 km. All this makes WallyAce one of the most economical yachts in its class.
At the same time, WallyAce is distinguished by exceptionally smooth movement, there are no noticeable vibrations and noises (no more than 50 dB). According to people who have already had the opportunity to test the ship on the move, it is a pleasure to drive it. At the same time, the control itself is simple and convenient, most tasks are quite capable of being taken over by the autopilot.
As for the design, it is magnificent and unusual at the same time. The yacht looks very high, it has "angular" shapes and a straight stem. Its body, the width of which is 7.75 meters, was enough to accommodate the premises, the total area of \u200b\u200bwhich is considerable for such dimensions 282 sq.m. At the same time, almost half of this space falls on open decks.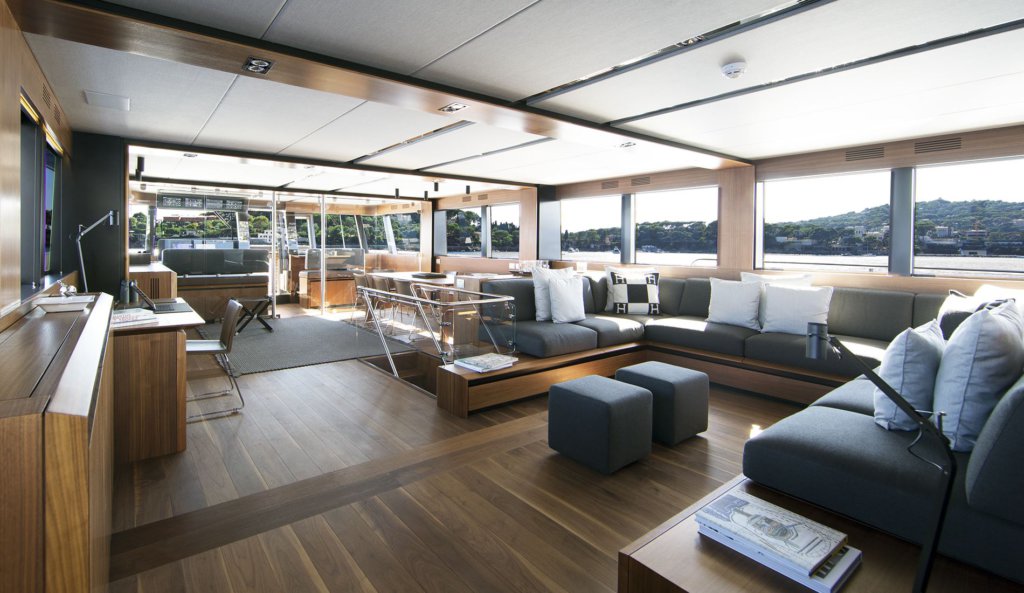 On the main deck rises a spacious salon, with an area of 41 sq.m., devoid of any bulkheads and characterized by advanced glazing, thanks to which a magnificent view of the surrounding spaces opens up from the inside. From above there was a place for a huge sun deck, without any awning, but with a bar and a barbecue. And almost everywhere there are comfortable seats, allowing you to comfortably spend time, alone or in company. There was also a place for sun loungers and sunbathing.
WallyAce's original design is for 3 cabins, including an impressive owner's suite located aft with direct access to the bathing platform through glass doors in the transom. But if desired, the number of cabins can be increased to 4. In this case, the number of guests on the boat increases from 6 to 8 people. Plus 4 crew members, who also have 2 cabins in the bow. However, if you wish, you can do without a team, because the yacht is very easy to operate.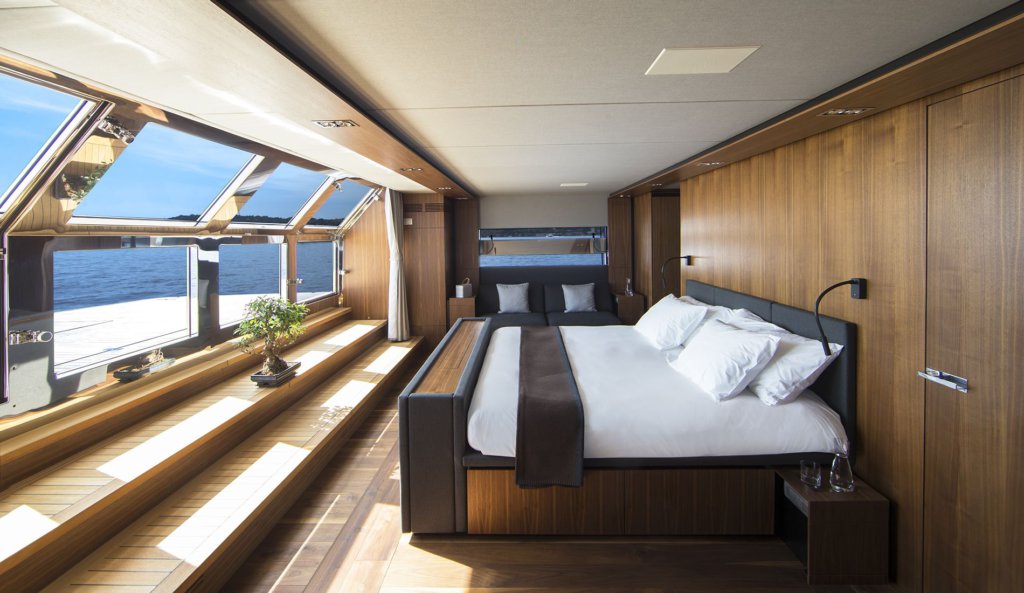 When decorating the cabins, "soft" and soothing tones were used. There are no special design solutions here. But everything has been done to make travelers as comfortable as possible. And the presence of Seakeeper stabilizers means increased comfort even with fairly noticeable pitching.
And finally, it is also necessary to mention the garage for the tender, located closer to the bow of the vessel. It has enough space to accommodate an 8-seat RIB specially designed for WallyAce.