Let me introduce you to the new flagship of the renowned Italian shipyard Cranchi Yachts, which is known for its technological innovations.
Settantotto is the largest yacht ever built by this company. It was presented to the public for the first time at the international exhibition Boot Düsseldorf earlier this year.
The 25.15-meter Cranchi Settantotto boasts an extraordinary exterior and interior designed by renowned Parma designer Christian Grande. In the process of creating new items, the designer worked closely with the Shipbuilding Research Center. Grande carefully selected the materials and colors used in the construction.
There are large open areas on the main deck and flybridge. Aft is a full-fledged garage that can accommodate a boat and a jet ski, and above it there is a large terrace for sunbathing. The hydraulic platform can serve as an excellent swimming platform and will help to lower the equipment from the garage to the water.
If you go inside this miracle of engineering, you will find a living room with panoramic windows and a separate kitchen area. Passing through a modern and fully equipped galley, you can get to the wheelhouse. The kitchen, living room and seating area are optimally and comfortably placed on the spacious deck. There is even an additional bathroom on the main deck.
Designer Christian Grande spoke a little more about his creation: "We designed the yacht so that the outer decks do not look like a mere appendage to the interior. During the development of the design, these rooms gained independence and individuality. Customized pieces of furniture and accessories are used for them. We worked out every detail down to the smallest detail and used advanced techniques so that the entire space is perceived as a harmonious and interconnected whole."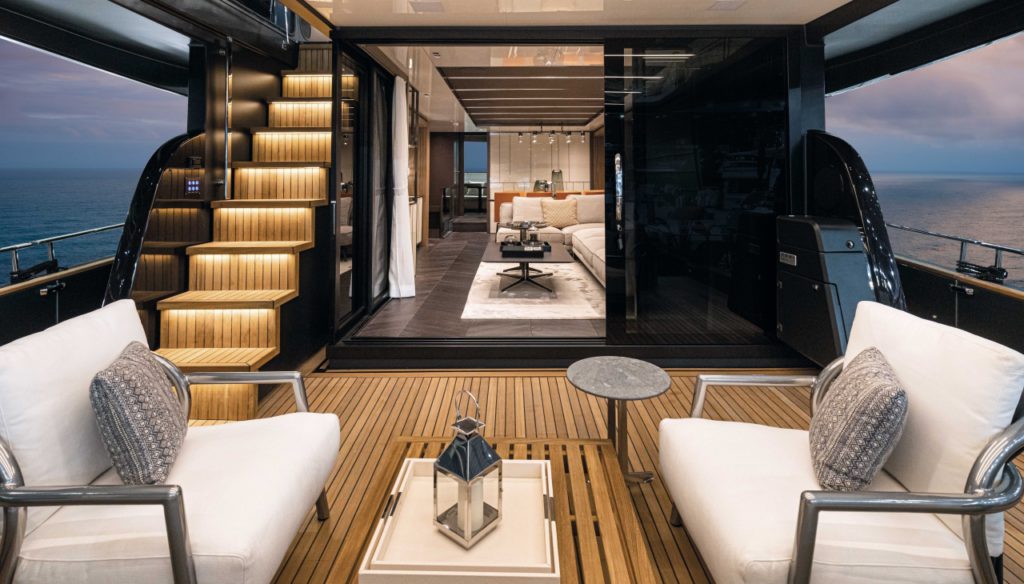 He added: "The wide space of Cranchi Settantotto inspired us to create a design with a strong architectural matrix. It uses unconventional, free-standing furniture and finishes unfamiliar to the world of yachting, such as back-painted glass and fabric wall coverings. Wide passageways and windows connect the exteriors and interiors, bringing natural light and nautical elements to the design."
The Cranchi Settantotto can comfortably accommodate up to 18 people. There are different layout versions: even the basic layout includes four cabins with their own bathrooms. In the center of the yacht is the most spacious master cabin for the owner of the vessel, and the second VIP cabin is located in the bow.
The boat is equipped with three in-line six-cylinder IPS D13 engines with a power of 1000 hp. from Volvo Penta. They comply with the European standard Recreational Craft Directive category A. Together with the IPS3 propulsion system, they create a compact, reliable and lightweight steering system, ideal for yachts of this size.