Italian design agency Lazzarini has presented a concept version of the new 153-meter mega yacht Prodigium in the shape of a shark. According to the developers, the ship will become one of the largest in the world.
The shape of the six-deck boat perfectly repeats the silhouette of a sea predator with a pointed tail. The balancing sailboat Prodigium resembles a huge shark fin, and the decoration of the two terraces on the sides are made in such a way as to evoke associations with the fins of a predator.
The upper deck has a Roman-style living room, dining room and galley. The lower deck is given over to cabins for 44 guests and 30 crew members. There are three large swimming pools in the aft area.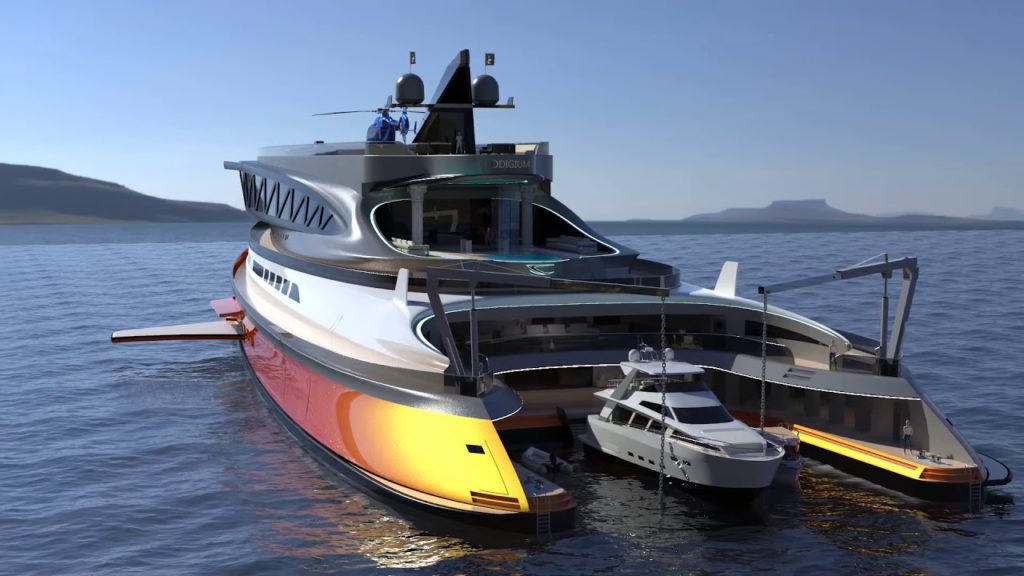 Solar panels are installed around the entire perimeter of the upper deck of the megayacht, which allow generating enough energy for lighting. The boat is equipped with a hybrid power plant, which is capable of reaching a maximum speed of up to 22 knots.
Due to its colossal size, the ship can carry up to 8 tenders. In the aft part of the Prodigium, there is a private port designed for parking yachts up to 30 m long. At the highest level of the boat there is a helicopter landing area with an area of 300 square meters. m.