Among the features of the 100-meter vessel is a unique design and unusual sailing equipment.
The Vento project was created to show how the company sees the future of large sailboats. In developing this concept, renowned design studio Nuvolari Lenard aimed to present a vessel that will make a splash wherever it goes. It has athletic, muscular yet graceful forms, which are accentuated by an inverted bow that increases the length of the waterline. As well as huge wing sails, the development of which was carried out with the participation of Omer Wing Sail, founded by a former fighter pilot.
It is expected that such sails will be distinguished by the highest efficiency, exceeding the performance of comparable conventional sailing rigs. The Vento has a total sail area of 2,400 sq.m. and is carried by two carbon composite masts, which are 64 meters high. In addition to the sails, a hybrid diesel-electric system is also provided.
Since this 100-meter vessel is equipped with a lifting keel, which ensures minimum roll of the vessel, even when moving at full speed, its draft can vary from 5 to 9 meters. To reduce weight, the ship's hull is planned to be made of aluminum, while carbon fiber will be actively involved in the creation of superstructures.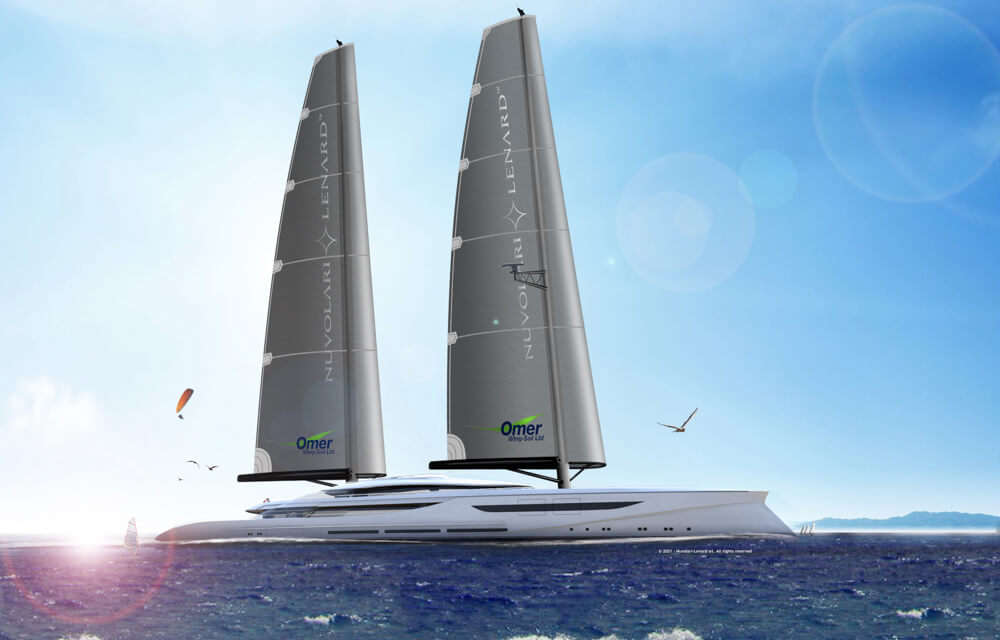 There are 6 double cabins on board, featuring the highest level of comfort - four VIPs, one super-VIP and another large owner's cabin located in the bow. Also, the dimensions of the vessel made it possible to place a spacious beach club at the stern and an impressive flybridge - open spaces where you want to spend as much time as possible.
Design studio Nuvolari Lenard drew on its wealth of experience with renowned shipyards such as Oceanco, Palmer Johnson, Perini Navi and CRN to develop the Vento. The result was a creation that is not "just another sailing superyacht", something truly original, with a minimal impact on the environment.
The concept of a mega-sailboat was demonstrated during the event Venice Boat Show 2021which started on May 29th. Nothing has been said about the possibility of building Vento yet.