The electric motorboat does not create disturbances when moving and does not have any negative impact on the gradually collapsing channels.
Many historic buildings in Venice are in danger due to the waves created by the movement of motorized ships. The channels are gradually destroyed, which can eventually lead to the collapse of buildings. But the electric boat Candela C-7, presented by the Swedish company Candela as part of the event Venice Boat Show 2021designed to solve this problem.
The original ship is equipped with hydrofoils controlled by a special computer system. During movement, the hull of the boat rises above the water surface, resulting in the impression that it is flying above the water. The excitement created during the movement is quite small and comparable to what is created during the movement of rowing vessels. As a result, the negative impact on the canal banks is minimal.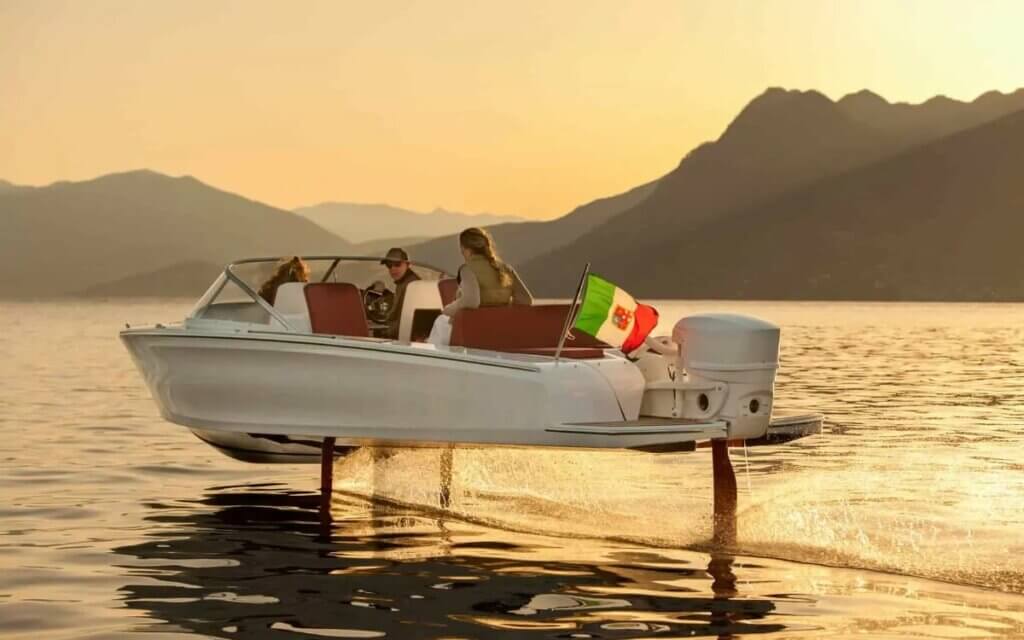 The developers do not disclose the technical details of their system. It is only reported that 5 special sensors read the parameters of the movement of the vessel and accordingly change the position of the wings, which can occur up to 100 times per second. This allows the boat to remain stable even when moving at not very high speeds. At the same time, the height of the waves created does not exceed 5 cm, as is the case with traditional rowing boats.
The Candela C-7 is also said to be highly fuel efficient, with a single battery charge capable of covering 50 miles while cruising at 22 knots, well above other electric boats of similar size. The maximum speed can reach 30 knots. It is important to note that the electric motor also means no emissions and very low driving noise, which is also important when moving through narrow canals.
The Candela C-7 is built with active use of carbon fiber, thanks to which it was possible to create a reliable, but at the same time lightweight construction - the weight of the boat is 7.7 meters long and is 1300 kg.
The developers hope that the construction they have created will interest the inhabitants of Venice and will contribute to the preservation of this unique city. Now they are busy creating a water taxi and a ferry, which will also be equipped with hydrofoils.