Tatiana is the largest yacht built by Bilgin Yachts to date. She showcases the best in industry innovation and offers stunning views from bow to stern.
This Bilgin flagship will be the standard bearer for two additional 263 series yachts to be delivered in the next couple of years.
Motor yacht 263 Tatyana, 80 m long, is due to be launched in 2021. The sophisticated looks and engineering of this luxury boat are the result of a collaboration between Unique Yacht Design and H2 Yacht Design. The boat was designed in accordance with the requirements of a regular client of the shipyard, who wanted to see a deliberately sporty, masculine, but at the same time, cozy and "home" boat.
Tatiana's stylish layout features spacious living spaces, a huge spa and a luxurious beach club. It offers accommodation for up to 12 guests in eight cabins, including the owner's suite on a separate deck, four additional guest cabins on the main deck, one guest room, and two crew quarters on the lower deck.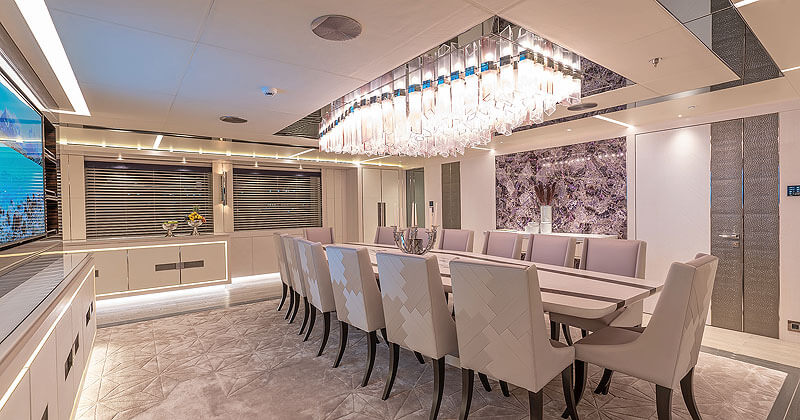 One of the most interesting places on board the Tatiana is the aft beach club. As the "heart" of the yacht, it is directly connected to the main saloon by stairs and features a 9 meter swimming pool as well as a range of other amenities including a bar, sun loungers, Turkish sauna and massage room.
In addition to this, various tenders and water toys are provided on the front deck of the yacht for recreation on the water. Passengers can take advantage of the modern fitness room and sauna located on the lower deck on the port side, as well as a large cinema. Perfect for both work and play, Tatiana features a personal office on the bridge and a rooftop room that is themed in the style of a sports bar.
The steel displacement 80-meter hull of the Tatiana 1680 GT and the aluminum superstructure have a width of just over 12 meters and a draft of 3.5 meters. The superyacht is equipped with an environmentally friendly exhaust system, providing the 100% with clean air emissions that meet the latest IMO Tier III standards. Two 2,560 kW engines are capable of accelerating the Tatyana to a maximum speed of 19 knots. At a cruising speed of 11 knots, the boat can cruise 5,000 nautical miles.