Evo V8 is the new flagship 24m yacht in the Evo Yachts range from the Italian brand Blu Emme Yachts Evo Yachts.
9 months ago, Evo Yachts announced the launch of the new innovative motor yacht Velar 78, inspired by the Velar 70 concept introduced in December 2019 by Evo Yachts designer Valerio Rivellini. Today the boat has received the official name Evo V8.  
The Evo V8 is a yacht designed to excite and surprise customers. She, like a "Russian nesting doll", hides many nested surprises. And although the shipbuilder promises to reveal all these secrets after the official debut of the boat, which will take place in September of this year as part of the Cannes Yacht Show, some details of the vessel can be seen in the recently released renders.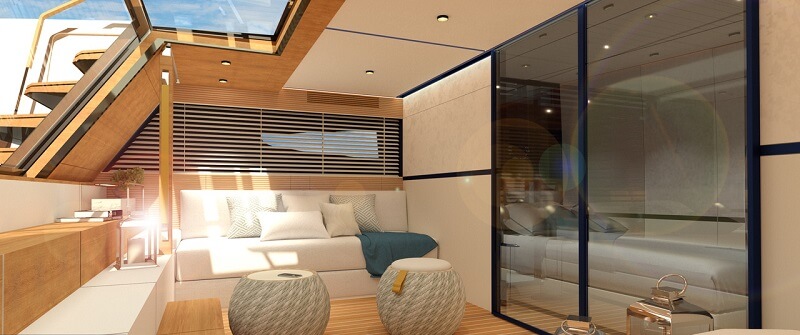 The main idea of the flagship Evo V8 is to find the point of intersection between the proposals of two worlds: sailing and motor yachts, to take the best of both and revolutionize cruising. Evo V8 was able to combine the speed of a motor yacht with the comfort and measured sailing of a sailing yacht.
One of the main results of this mixed approach is the presence of four control posts. One station is on the main deck in front of the salon, the second is on the roof. Two helms are located on each side of the main deck. Such an arrangement, according to the developers, should facilitate the maneuvering of the boat. Benches and couches are located between the helm stations, which allow guests to freely communicate with the helmsman.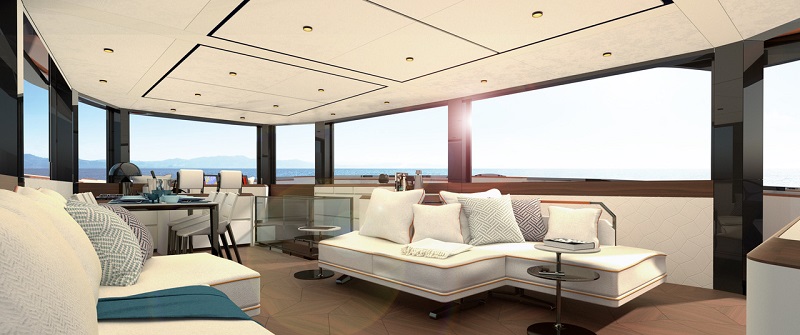 Another feature of the Evo V8 is the large bathing platform, which can be accessed directly from the master cabin located aft. This bathing platform is fully open, only 70cm above the waterline and features sloping bulwarks so guests can enjoy a 180 degree view.
Three steps connect the beach area to a low living area that precedes the main cabin and has large sliding glass doors. This space can be used during the day as an outdoor patio, separated from the interior and protected from wind and sun, or at night as a private space for the owner by closing the outside terrace door and transforming it into an exclusive 12m outdoor suite.
What makes the Evo 8 unique is its fully customizable layout. The first block has three rooms for seven guests and a cabin for two crew members. On the main deck there is a dining area with large windows arranged in a circle. The lower deck is equipped with a master suite, two guest quarters and a crew quarters.
The flagship Evo V8 will be handed over to the owner, a regular customer of the shipyard from Italy, in the coming months.