The new Isla 40 catamaran: the best choice for exploring the Fountaine Pajot shipyard.
This sailboat is an excellent ship if you want to be in harmony with nature, admire the expanses of the sea, feel the peaceful solitude, as if you were an island in a boundless ocean. In addition, catamarans from Fountaine Pajot are quite spacious and allow you to take a company of close people with you, with whom you can share the pleasure and vivid emotions of sailing.
That's why Fountaine Pajot has always named its new models after islands or names that evoke islands.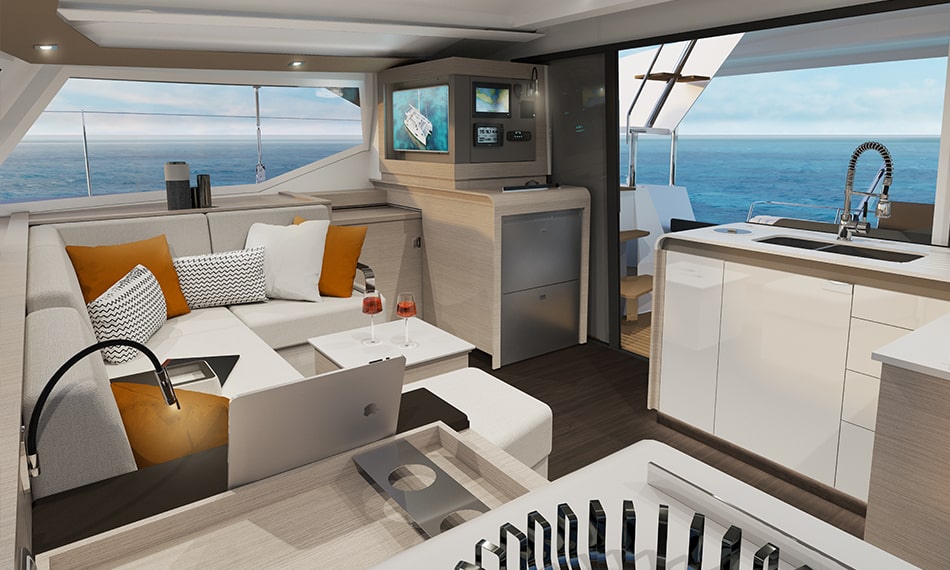 The new Isla 40 catamaran is the flagship model in the Fountaine Pajot range. As the shipyard's newest flagship, it serves as a benchmark for all subsequent versions in this size of vessel. His name speaks for itself. The "40" in the name refers to the 40-foot length. As such, it sets the standard for sailing catamarans of this length.
This new 12m sailing catamaran is the proud successor to the Lucia 40 and perfectly embodies the spirit and innovative design of Fountaine Pajot.
Its two floats are gracefully curved in the opposite direction. The catamaran boasts an innovative lounge where the chart table is adjacent to the entrance, leaving room for a sun lounger and "total relaxation". Its outstanding performance and comfort (3 or 4 double cabins + optional crew cabin) takes this new model from the ranks of ordinary catamarans to a whole new level.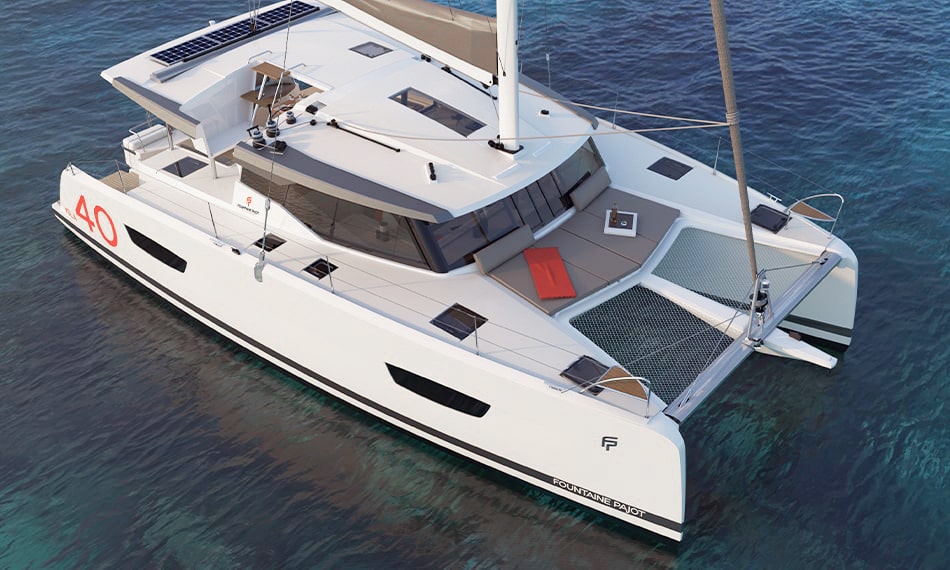 Like its predecessors, Isla 40 stands out for its elegant and swift forms, easily recognizable among all other vessels.
Main characteristics
Overall length 39.14 ft - 11.93 m
Overall width 21.8 ft - 6.63 m
Empty displacement 9.5 t (approx.)
Draft 4.0 ft - 1.21 m
Sailing area 635 ft² − 59 m²
Area of Genoa 387.5 ft² - 36 m²
Standard power 2 x 20 hp - 2 x 20 n. l. with.
Optional power 2 x 30 hp - 2 x 30 n. l. with.
Architect Berret-Racoupeau Yacht Design
Tank capacity
Fresh water tank 2 x 92 US gallons - 2 x 350 liters (approx.)
Fuel tank 124 US gallons - 470 liters (approx.)
Versions
Maestro version
1 owner cabin + 1 bathroom / 2 double cabins + 1 or 2 bathrooms
Quatuor version
4 double cabins + 2 or 4 bathrooms