The brand new €450m Solaris superyacht, designed for Russian billionaire Chelsea FC owner Roman Abramovich, has passed its first sea trials.
This was reported by the site SuperYachtTimes.com, providing a video of "sea trials". The video shows how a massive ship with 48 cabins is gently pulled from the Lloyd Werft shipyard in the German city of Bremerhaven into the Kaiserhaven basin. To take Solaris out of the shipyard and into deep waters, two other tugboats attached lines to the bow and stern of the superyacht.
Apparently, the first sea trials of the boat were successful, and after a while the ships carefully towed Abramovich's Solaris back to the shipyard.
Solaris promises to be one of the most impressive superyachts ever built. At 460 feet, the boat is not the largest or even the most expensive yacht in Abramovich's fleet, but at €450 million, it is the most expensive custom-built superyacht in the world, and perhaps even the most advanced and technologically advanced.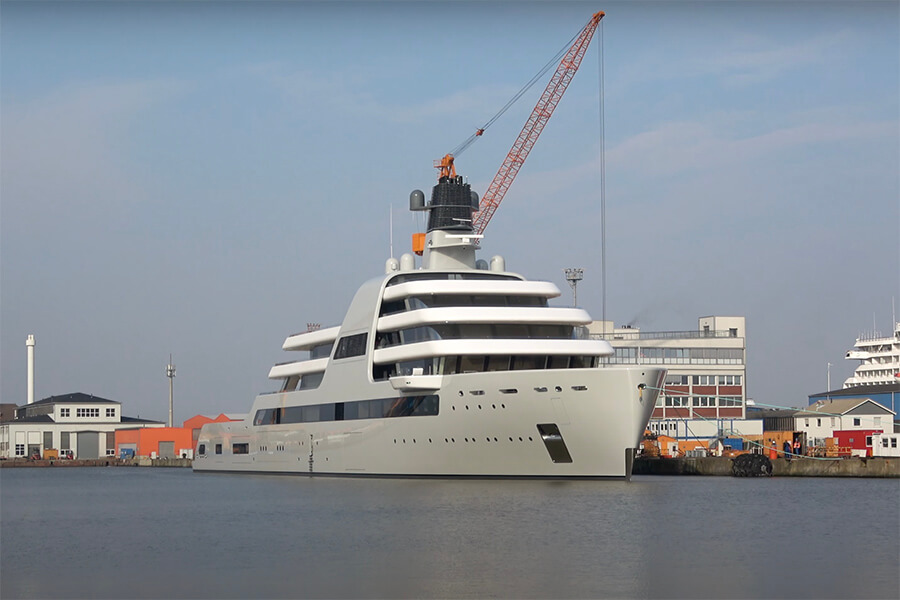 Although much of the boat's specifications are kept under wraps, it is known to have 48 cabins that can accommodate up to 60 crew and 36 guests. The latter will have the opportunity to relax in luxurious state rooms and move between the eight decks of the yacht by elevator.
The superyacht is powered by a propulsion system consisting of two high-tech Azipods electric motors that drive ultra-efficient propellers that can rotate 360 degrees, making steering easy and comfortable.
The 460-foot yacht is equipped with a helipad, swimming pool, anti-drone technology. A gym, sauna, jacuzzi and at least one swimming pool are standard on boats like the Solaris. If the new vessel is designed like the 530-foot Eclipse, it will also include a beauty salon with a beautician and hairdresser. The Eclipse will have a nightclub with a dance floor, but the Solaris will instead have an outdoor beach club aft of the upper deck.
Naturally, Abramovich's novelty will also be replete with various ocean toys - a flotilla of 20 high-speed jet skis and at least one helicopter to transport guests from ship to shore. And it's hard to believe that someone like Abramovich wouldn't invest in a unique piece of equipment that an ocean tycoon needs - a personal submarine.