The Italian company Tecnomar, which is the flagship division of the shipyard Italian Sea Group, presented a conceptual model of the charter motor boat Domus.
The 36-meter yacht has become the embodiment of the "villa on the water" philosophy, with an emphasis on maximum lightness and a large amount of space. The main idea of the developers was to create a spacious adaptable platform, on the basis of which customers can customize their individual layout.
The Domus boat is the epitome of luxury and comfort. The developers managed to create an elegant atmosphere due to high ceilings, wide passages, natural light, and spacious cabins. The luxury of interior decoration is emphasized by various types of wood, Calacatta golden marble, etc.
A feature of the yacht is the beach club, with an area of 36 sq. m., located in the aft area. High sides with panoramic windows reliably protect the territory from spray and wind, which allows you to create a feeling of coziness and comfort, while at the same time delighting you with closeness to the sea.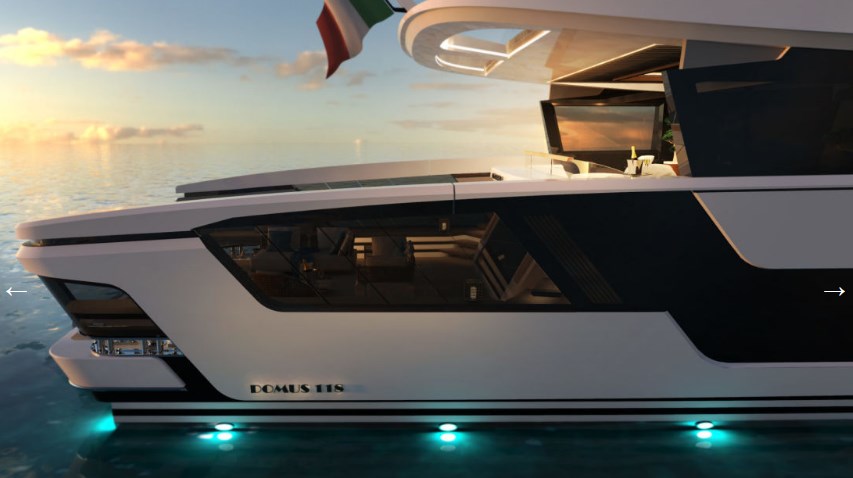 On the upper deck, covered with an awning, there is a saloon, a bar and a multimedia center. At the request of the owner, it can be closed with large windows, which are removed into special niches along the sides. The main deck has an "open" layout that can be "remodeled" to suit any customer's needs.
The concept of the Domus yacht suggests the presence of the original galley in the bow area. On the lower deck there are five cabins with private bathrooms that can accommodate up to 10 guests.
Domus is equipped with a unique power system, which includes four Volvo engines with a capacity of 1350 kW, providing a speed of 21 knots and an autonomous cruising range of 1,000 miles at a speed of 10 knots.
Previously, the Tecnomar shipyard developed yacht for Lamborghini worth $3.4 million that looks like a supercar. One of the Tecnomar for Lamborghini 63 motor yachts was purchased by the famous Irish UFC fighter Conan McGregor.