Sailing yacht Phocea (formerly Enigma) was one of the Top 10 largest sailing ships in the world.
On Friday, February 19, the 75-meter sailboat Phocea, owned between 1980 and 1990 by the former owner of Adidas Corporation, Bernard Tapi, sank off the coast of Malaysia. Speaking to Agence France-Presse, the Malaysian Coast Guard confirmed that Engima sank around 5-6 am on 19 February. The cause of the crash was a fire that occurred on the deck of the boat.
Crew members of the yacht Phocea, which is ninth largest sailing yacht in the world, turned to the Langkawi Marine Rescue Center and the Malaysian Maritime Agency MMEA for help. Firefighting began around 8:18 local time, however, despite the Coast Guard being able to contain the fire, the damage to the hull was too severe, causing the yacht to sink. The cause of the fire is still under investigation.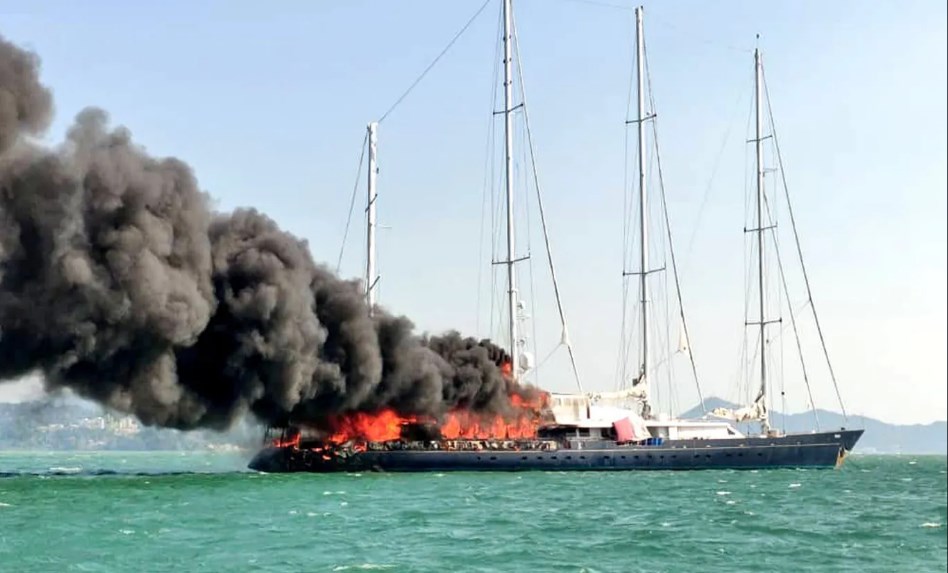 Director of the Kedah and Perlis MMEA, 1st Naval Admiral Mohd Zawawi Abdullah noted that although wind conditions "difficult the operation", seven crew members were successfully transferred to the Tenggol patrol catamaran. All of them are safe and sound. Abdullah also said that no oil spills were recorded. Now MMEA experts continue to monitor the situation.
It is noted that the 75.12-meter yacht Phocea was built in 1976 at the shipyard of Toulon, France, especially for the single yachtsman Alain Cole. In 1986, she was converted into a cruise boat for the French entrepreneur, ex-owner of Adidas and President of Olympique Marseille, Bernard Tapie. Later, in 1999, the yacht was sold to Mouna Ayoub and refitted during a refit at Lürssen.
In 2010, the yacht was purchased by its current owners, whose names are not known.