A small sailing yacht damaged the superyacht Sailing Yacht A of billionaire Andrey Melnichenko near the Spanish port of Vigo in Galicia.
The Spanish news portal La Voz de Galicia published information that a local sailing yacht crashed into a luxurious superyacht Sailing Yacht A, owned by a Russian entrepreneur, owner of the Siberian Coal Energy Company, Andrey Melnichenko.
According to the site, an unpleasant incident happened on March 28, off the coast of the Spanish port of Vigo in the province of Galicia. As can be seen from the video taken by local residents during the incident, the sailboat came very close to the yacht, and her helmsman, apparently, lost control. The sailboat touched the side of the superyacht, walked a few more meters, after which it rested its mast against the open gate of one of the yacht's rooms. After the collision, the sailing yacht left the parking lot of the superyacht.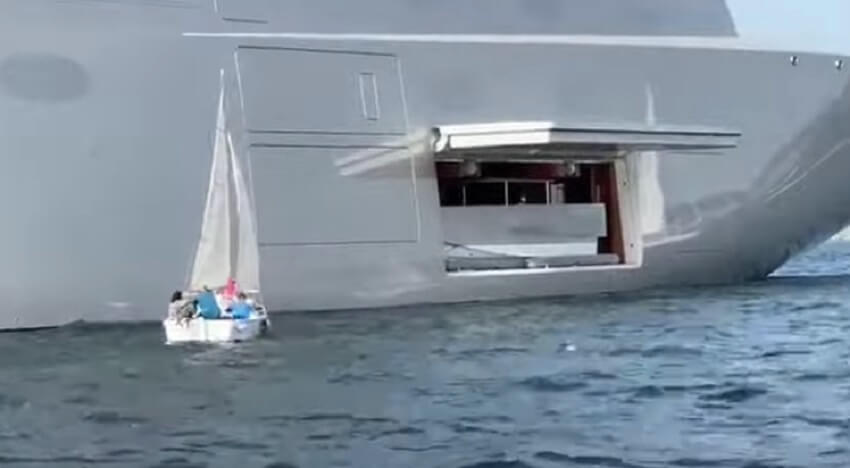 According to the media, the impact was not very strong, but the Sailing Yacht A team reported the collision to the local authorities, as there was a noticeable "scratch more than one meter long" on the hull. La Voz de Galicia noted that prior to the incident, the Russian billionaire's superyacht had been anchored in the port town for several days. Local yachting enthusiasts now and then swam up to the ship to take pictures and take a closer look at it. It is assumed that the passengers of the sailboat went to the yacht for the same purpose.
Note that 142m Sailing Yacht A was launched in 2017. She is currently considered the largest sailing yacht in private ownership and is estimated at 400 million euros. The yacht has eight floors and one underwater cabin. When moving under the engine, the vessel is capable of reaching a maximum speed of up to 20 knots.