One of the yachts participating in the regatta sank, but the yachtsman himself was rescued by another participant in the competition.
Within two weeks of the start of the ninth Vendée Globe regattas the two leading yachts were seriously damaged and had to stop the race. First, Jeremy Bayou's Charal lost its mast just two days after launch and had to return 600 miles back to its starting point in Les Sables-d'Olonne, France. Later yacht Hugo Boss, driven by Alex Thompson, suffered rudder damage and is now en route to Cape Town, South Africa.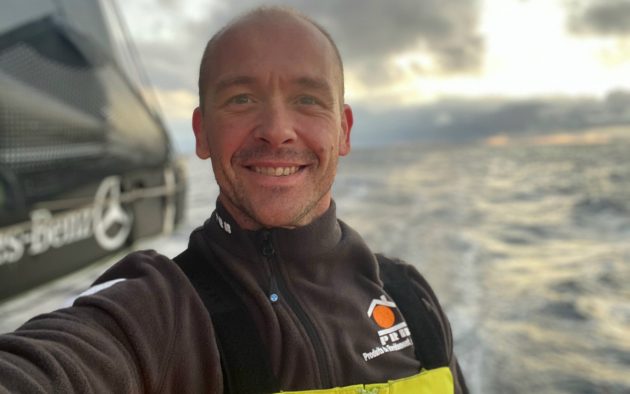 But yesterday there was a much more dramatic event with the PRB yacht of French racer Kevin Escoffier, a veteran of several round the world sailing races. She split in half while climbing the next wave and sank in a matter of seconds (according to Escoffier himself, it took no more than 5 seconds). The yachtsman himself barely had time to go to the life raft and radio that he was leaving the ship and that "this is not a joke."
Although the raft's emergency beacon indicated its approximate location, the rescue operation in stormy conditions was an extremely difficult undertaking. As a result, Escoffier was picked up by another Frenchman - Jean Le Cam on the yacht Yes We Cam!, who deviated from his route in order to save his compatriot. Together with him, two more yachts that were nearby participated in the search operation.
Surprisingly, Le Cam managed to find a tiny raft in the middle of a raging sea after only two hours. But he could not immediately pick up the one in distress due to high waves and strong winds. For some time the raft was again lost sight of and it took several more hours for new searches. As a result, everything ended well. Escoffier's first words, after boarding the YesWe Cam!, were an apology for interfering with the race.
Now the organizers of the regatta are considering how to adjust the time for the yachts that took part in the rescue operation. Escoffier himself will soon be picked up by a nearby French ship and Le Cam will be able to continue the competition.
Interestingly, Le Cam itself crashed during the 2008-2009 Vendée Globe 12 years ago. His yacht capsized and was carried 200 miles to Cape Horn. The yachtsman remained on board. This was Le Cam's second participation in the regatta. During the 2004-2005 Vendée Globe, he finished second, only a few hours behind the winner.
Vendée Globe is deservedly considered the most extreme round-the-world race. Athletes sleep two or three hours a day, while cruising at the highest possible speeds through extremely difficult waters to navigate. This regatta is expected to end in early February. Of the 33 yachts that started on November 8, 30 remain.